Benefits of Membership
Being an active participant in Santa Ynez Chamber ensures that your customers, local residents and visitors know that you are a proud supporter of the Santa Ynez business community.
The Chamber:
Promotes the community and strengthens our local economy
Provides networking and marketing opportunities
Provides important, programming and training for businesses and entrepreneurs
Provides exclusive benefits and discounts
Provides promotional materials about Santa Ynez
And more…
Types of Membership:
General Business Members  – Dues are based on number of employees
Service Providers – Businesses greater than 10 employees that primarily provide services to other businesses
Ambassadors – individual members not associated with a business who serve as Ambassadors to our community through their support of the Chamber
Non Profit – Discounted annual fee to help you boost your cause
Become a Chamber Member
Click below to download your desired membership application form. Please send the completed application and check to:
The Santa Ynez Chamber
P.O. Box 1738
Santa Ynez, CA 93460
Any questions?  Contact us (805) 350-8517.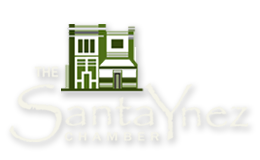 Santa Ynez Chamber
PO Box 1738
Santa Ynez, CA 93460
(805) 350-8517